How to choose a ceiling rose
19th October 2013
Ceiling roses (or ceiling centres) were traditionally used in the centre of ceilings to provide a neat, attractive finishing to light fittings. Ceiling roses are very fashionable once more and are now incorporated into many new builds but homeowners with older properties may find the original ceiling roses have been removed. In many properties, there may never have been a ceiling rose. It is surprisingly easy and affordable to add a ceiling rose, or to replace a damaged or unattractive one.
Choosing the right size
There is no right or wrong size for a ceiling rose but it`s important the proportions are right for both the room size and ceiling height. The height of the ceiling is as important as the overall dimensions of the room. Homes with low ceilings are better off with small, plain ceiling roses and this is also the case in a lot of minimalist, modern homes. Properties with high ceilings can take much larger or more ornate ceiling roses. It`s also a good idea to consider the furniture and other decor in the room before selecting a ceiling rose. A sitting room with delicate furniture will generally look better with a delicate and modestly sized rose, whereas a room with a strong centrepiece, such as a heavy oak dining table from a quality furniture store might be able to carry a larger and more striking ceiling rose. The other general 'rule-of-thumb' is that the rose should not overpower the light itself – i.e the diameter of the rose should not be much greater that the diameter of the chandelier.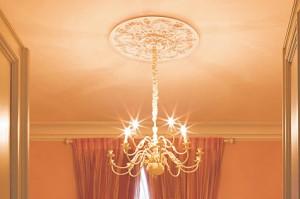 Styles of ceiling roses
Ceiling roses come in a wide variety of styles, from plain, flat circles to huge, ornate affairs. The style you choose will largely depend on your existing decor and any existing decorative features. If you live in a period property, you may already have some coving or cornicing in the room you wish to install a ceiling rose in. With the huge variety of styles on offer, it should be possible to find a good match to the existing plaster decoration, or at least a rose that nicely complements it. If your ceiling just has plain coving, you will have quite a lot of freedom when it comes to choosing a rose. Likewise, if your ceiling has no coving or other decorative plasterwork, you are starting with a blank canvas. Just remember to take into consideration any other architectural or decorative features. A period fireplace, for example, might not look right in a room with a very modern, contemporary ceiling rose.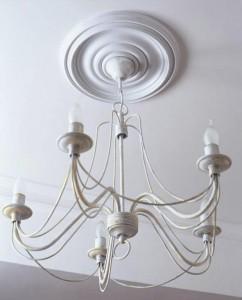 Alternative uses of ceiling centres
Believe it or not, a ceiling centre doesn't always need to be fitted to the ceiling! Have a look at the images below where they are fitted to the wall (sometimes with a reflector bulb), or as part of a feature combined with panel mouldings. Or fit several roses onto the ceiling, simply as a form of decorative art.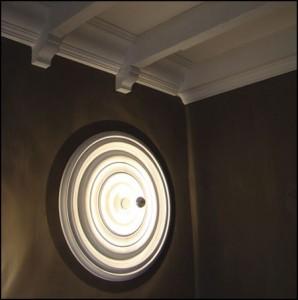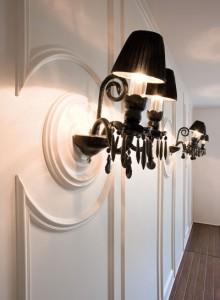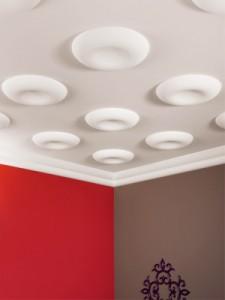 Replacing period ceiling roses
If your period home has been modernised over the years and ceiling roses and other ornate plasterwork details have been removed, it`s relatively easy to remedy. If you want to be as faithful as you can to your home`s past but all the rooms in your property have been modernised, it`s a good idea to ask around neighbours or friends who live in similar properties. Chances are, several people in your street will still have original period features in at least some rooms. Taking a look at the sizes, shapes and styles of any remaining ceiling roses will give you a great idea of what style to choose for your own home.