Interior design: shabby chic
3rd October 2013
Some people design their homes to be practical. Some design them to fit the latest trends. Shabby chic is a look that's all about beauty. Timeless and yet continually evolving, it highlights the charm of old and faded things – the romance of imperfection. It's a look that can be put together on a budget but that can also incorporate luxury. What it needs most of all is imagination, and for those prepared to make the effort, a wonderful home awaits.
Shabby chic shades
The colours used in shabby chic are subtle ones but they can be potent in combination. Pale rose and eggshell blue combine with ivory and almost ethereal yellows. Silver is the predominant metallic hue, though pale gold and copper verdigris can work as highlights. More adventurous designers can experiment with pale lilac, turquoise and jade. Distressed wooden furniture can blend in beautifully, so pale wood colours and occasionally beige also ties into the look, with pale grey often underscoring other shades.
Decking out a room
The shabby chic look positions clutter alongside areas of simplicity. Two walls might be painted in simple shades and hung with just a couple of old pictures, whilst others might be clad in floral print wallpaper and covered in interesting objects – clocks, calendars, elaborately framed mirrors, sprigs of dried flowers, horseshoes and eclectic images clipped from magazines. The trick is to subtly coordinate colour and tone.
For windows, three quarter length curtains patterned with flowers, letters or musical prints work wonderfully, as do plantation shutters in different colours that complement the room. Ceilings can be painted in a number of pale shades but really need cornicing – or at least coving – to bring out the look. Traditional Georgian-style cornicing can be painted to bring out natural or celestial themes.
A central ceiling rose/rosette can be enhanced with a chandelier.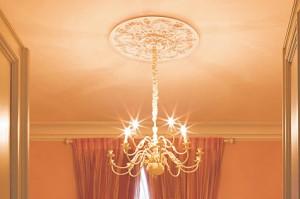 Shabby chic rooms look good with plain floorboards, especially if they're old and uneven. Sheepskin rugs or faded Persian rugs work well. Ideally, every room should have a fireplace. Old fireplaces can often be purchased from junk shops and if they're not in perfect condition, they just look better.
Fitting furniture
A shabby chic room can look good with several older styles of furniture blended together. Upright couches suit the style and can be surprisingly comfortable to sit on. Even a pew, draped in white lace, makes a good perch for a hallway or landing. Damask silk is the number one choice for cushions and bedcovers, but simple, unbleached cotton or linen also works well.
Every shabby chic home needs dressers – the more drawers the better – and these look best when painted. Dressing tables can be cluttered with small glass bottles that catch the light and form pools of muted colour, or accessorised with old-fashioned silver hairbrush sets. Shelves should be lined with old leather-bound books in varying states of repair, with glass and china ornaments and antique figurines. Every part of the home can be filled with fascinating found objects that bring out its natural beauty. The only limit is your imagination.