Coving Mouldings
Our Coving profiles are available in a wide variety of sizes and styles. They can match with your existing decor or help you create a brand new room design.  Profiles range from the refreshingly different, contemporary designs to more traditional styles (for our more intricate Cornice Mouldings, click here)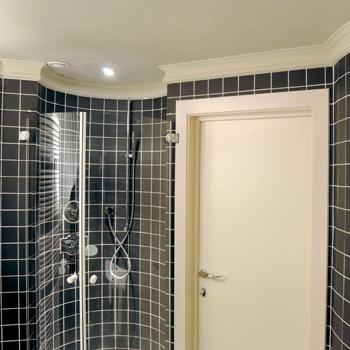 The profiles shown below offer the best value of all – helping home owners and decorators install and achieve first-rate results at an affordable price.   Extruded through a series of metal moulds, each length is exact and  dimensionally perfect. The hard, primed outer coating gives the necessary protection for installation without fuss or bother, ready for a finish coat of paint as required.  Easier and quicker to install than heavy, brittle plaster, there is now no excuse for anything other than decorative perfection.
All items are 2m in length, with a 2.6m option on certain profiles.  Additionally, some are available with pre-cut internal and external corners as well as a FLEXI option for curved walls/bay windows etc.
Delivery is normally made within 2-3 days and is FREE for all orders over £100 ex VAT.  For smaller value orders, delivery cost is £12 + VAT.
Special Offer – We want to help you achieve the best possible result, so we are offering our 2-in-1 (5m) internal gap measurement tape FREE OF CHARGE – RRP £9.98) for all coving and skirting orders over £200.  This tool helps measure internal gaps more accurately and without guesswork.  (It is a standard tape on one side, but on the reverse the measurement takes into account the casing, so there's no need to flex the tape blade for difficult to reach areas). It will be packed automatically with qualifying orders (max one tape per customer).