Ulf Moritz Range – Modern Cornice Styles with a Difference
12th September 2013
Polish-born Ulf Moritz is well renowned in the field of interior design, with his work being highly acclaimed on an international level. Ulf's designs are characterized by a unique use of motion, colour and a playful use of shape.
The Ulf Moritz Collection features a selection of decorative items from cornice, skirting and panel moulds combined with unique and charming design elements – for a truly exceptional and versatile range.
Ulf's designs play with shape, volume, light and shade creating a style that's big, bold and exudes elegance. This collection is designed to create depth and impact from walls and ceilings, with a combination of unique designs that fuse modern, minimalistic style with class, sophistication and a sense of fun.
Cornice
The cornice styles featured in the Ulf Moritz collection are a modern take on ceiling decoration. The Cloud cornice style has a heavenly look about it, with its smooth flowing curves and double convex lines giving it its cloud like appearance.
This provides quite a bold look and differs greatly from traditional cornice. It can be used in the home but would also be well suited to galleries and museums that are looking for something special to create a unique contemporary style.
Alternatively Ulf has also created Golf, which has a beautiful double rippled effect like ocean waves. As well as being used for cornice it can also be used to great effect on walls as a sculpture. It provides interest in a room with a fabulous combination of movement, light and shadow coming into play in different lighting conditions.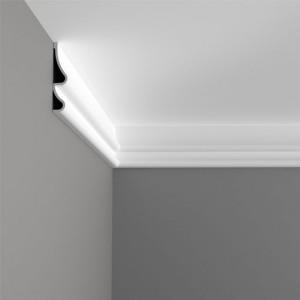 Uplighter Cornice
Uplighting creates real atmosphere and ambience that can transform any environment whether it's a bar, restaurant, hotel or even the home. Adding up or downlighter cornice in a room creates an instant contemporary feel, using LED lighting to create subtle mood lighting effects.
Fluxus and Shade are great for creating ambient lighting effects in a variety of settings. Both can be remodelled and used however you choose, for example, you can place them around doors, use them as a panel moulding or even as a novel idea for skirting. The lavish designs created by Ulf Moritz allow the light to flow beautifully, allowing subtle shadow to create the impression of depth.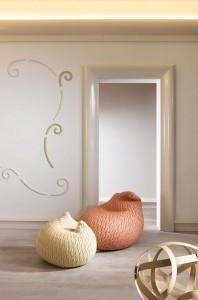 Dado Rails & Skirting
As well as cornice and coving Ulf Moritz has also designed a fantastic range of dado, panel rails and skirting. Radius is a personal favourite of Ulf's as it is so beautifully simple, allowing it to be both a stand-alone piece on a wall or combined with skirting. Dune is perfect if you're looking for skirting to match your wall panelling. If you're feeling really creative, you could even layer these elements together to create a different texture to a wall.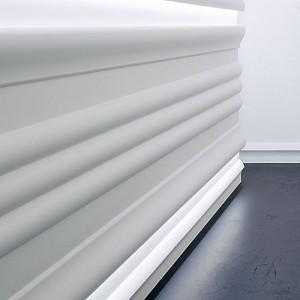 Decorative Ornaments & Ceiling Domes
Ceiling roses look fabulous in grand buildings particularly for showing off light fittings. Focus designed by Ulf Moritz is minimalist take on the ceiling rose, giving it a brand new lease of life and updating it for the modern context.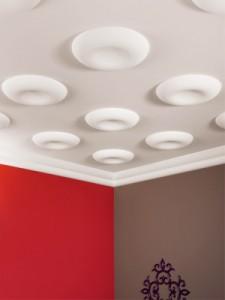 If you're looking for something that's a bit different then Ulf's range also includes a number of decorative elements that are fantastic for using for creating a pattern on a surface be it a wall, door, ceiling or wherever you choose.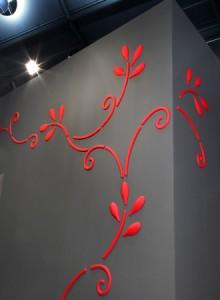 For a slightly Baroque or Oriental flavour, Scala is great for setting this tone. It's a great standout piece and looks great in many different places, particularly when combined with other elements from Ulf's range.
The possibilities created by some of the other pieces in the collection – Folio, Curl Mini, Curl Maxi and Smile are almost endless. These elements work well together, combining to create something truly unique.
The Ulf Moritz range is available now – get in touch for more information or view the collection online.